Introduction of Micro-Arc Oxidation Production Line
Micro-arc oxidation surface treatment process of huanic based on Xi'an University of Technology, PERI, Northwestern Polytechnical University and other research institutes, research and development of green high-power HKMAO micro-arc oxidation power supply and process, The micro-arc oxidation process has been successfully applied to the fields of military industry, auto parts, textile machinery, medical equipment, laser parts, photographic equipment, etc., and has accumulated experience in industrialization, scale and batch production management of micro-arc oxidation process.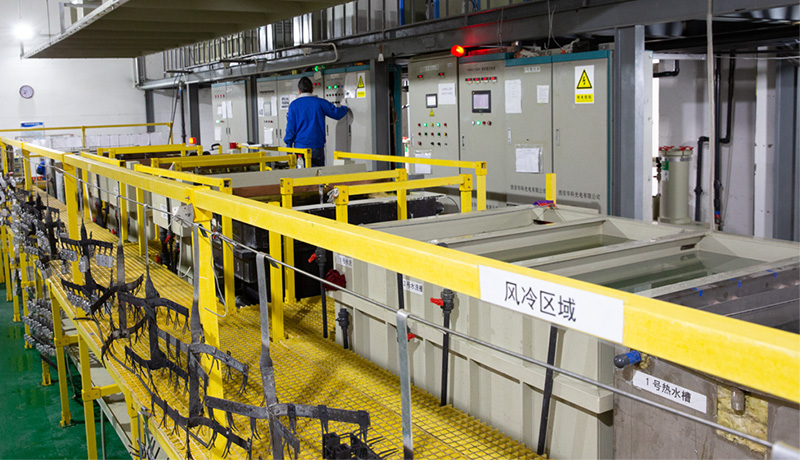 The HKMAO micro-arc oxidation equipment and micro-arc ceramic layers process developed by the company can meet the needs of industrial production, with the characteristics of power saving, high efficiency, high quality of ceramic layers and simple operation.

The technology of plasma micro-arc ceramic layer is a new technology for in-situ growth of ceramic layer on the surface of light metals and their alloys. Its principle is that the amorphous structure of the anodized film is transformed into ceramic phase by plasma micro-arc at high temperature, while the anodized film is grown on the surface of workpiece, so as to improve its abrasion resistance, corrosion resistance, high temperature ablative resistance and other properties. Only hydrogen and oxygen are emitted in micro-arc oxidation treatment. After micro-arc treatment, the workpiece can be washed with clean water. The micro-arc treatment tank liquid is micro-alkaline and does not contain heavy metals and other pollutants. The whole treatment process is pollution-free and belongs to a clean surface treatment process, which meets the requirements of environmental protection.

Huanic Co., Ltd. established Huanic Fengjing Surface Treatment Co., Ltd. in 2018, and invested in the establishment of a product surface treatment business subsidiary specializing in surface treatment (micro-arc oxidation, anodic oxidation, surface spraying, magnetron sputtering coating), sales and service in one .The company is located in Fengjing Industrial Park , Huyi District, Xi'an City, The park is located in the southwest of Xi'an City, south of Qinling Mountains, north of Weihe River, 18 kilometers away from Xi'an National Hi-tech Development Zone, within the "half-hour economic circle" of Xi'an. Huanic Fengjing completed nearly 3000 square meters of new surface treatment production line in 2018. It has a sulphuric acid anodic oxidation production line, a domestic advanced micro-arc oxidation production line, a spraying production line and a magnetron sputtering coating production line. The annual output value is more than 50 million yuan, and the annual growth rate is 30% on average. At present, the company has obtained a number of international and domestic quality certificates. The design of production line follows the concept of green environmental protection. After years of accumulation by the Surface Treatment Industry Department of Huanic Headquarters, the company has 9 senior technicians and managers, and 42 employees with more than 7 years'experience. The annual capacity of anodic oxidation line is 40,000 square meters, and that of micro-arc oxidation line is 26,000 square meters. The company's supporting products are exported to the United States and Europe, and are widely praised by customers.

Micro-arc oxidation equipment and properties of ceramic coating introduced:
The appearance of the coating is compact and uniform, with sub-glossy appearance and uniform color.
The coating thickness can be controlled between several um and 300 um.
Hardness can reach HV1000 ~ 2500.
Corrosion resistance, salt spray test more than 1000 hours;
Abrasion resistance improved to raw material 30~
High temperature resistance, can withstand high temperature impact of 2500 ℃ for 20 seconds (more than 20 seconds of matrix melting and ceramic layer intact);
Good insulation, electrical breakdown strength 5KV/mm, electrical insulation resistance >100MΩ;
High temperature resistance, can withstand high temperature impact of 2500℃ for 20 seconds (more than 20 seconds of matrix melting and ceramic layer intact).
Flexibility is strong. When the matrix is bent or broken, the ceramic layer does not crack or fall off.
Strong binding force, 30-100) Mpa;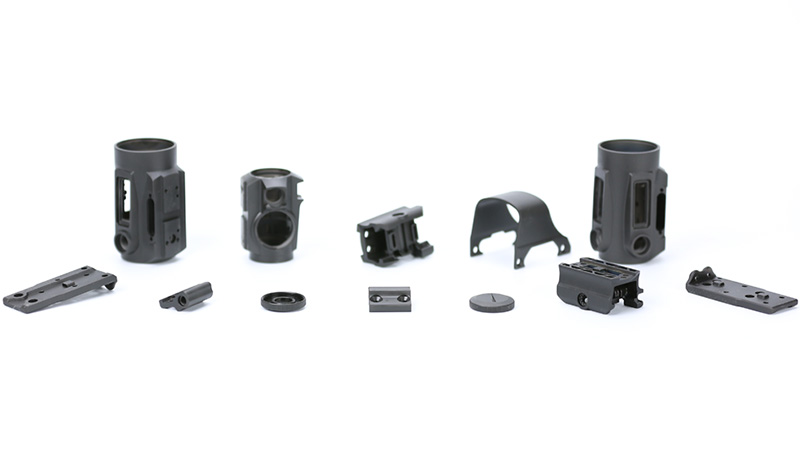 After being treated by micro-arc oxidation ceramic, light metal parts can replace similar parts made of steel, high strength cast iron, cemented carbide and ceramics, and can replace similar parts made by hard chromium plating, hard anodization and spray deposition. In aerospace, aviation, weapons, ships, machinery, automobiles, transportation, petrochemical, textile, printing, electronic products, light industry, medical, daily life and other industries, regardless of functional requirements, or appearance requirements, there is a huge market for the application of micro-arc oxidation technology.
For example, driven by the requirement of lightweight weapons, many new weapons require more use of aluminum alloy, but the use conditions are more harsh, requiring more wear resistance, corrosion resistance and high temperature resistance. In the power electronics industry, after micro-arc oxidation treatment of workpieces, some requirements for insulation, heat treatment, performance, quality, process will be a breakthrough improvement. Applications in medical devices, artificial bone implantation and so on. Therefore, micro-arc oxidation ceramic technology has broad prospects and promising market in military and civilian applications.
High-power micro-arc oxidation equipment is suitable for industrial production needs. Huanic's first micro-arc oxidation one drag two production line control has been used in Shenzhen and other places. And obtained the production management experience of mass-scale and large-scale use of micro-arc oxidation process in the enterprise. The demand for similar high-power equipment will be a big market in the future.
For more information, please visit the website of Huanic Fengjing Surface Treatment Co., Ltd:
fengjing.huanic.com